Testimonials and real life love stories
Taking that first step can be daunting so it's reassuring to hear from those that have - and there's no greater recommendation than that of personal experience! Here's a selection of testimonials;
"After all we had been through, neither of use ever thought we would find someone again. We could both just see a lonely time ahead. Joining Just Introductions was (for both of us) a way to make new friends but it turned out to be life changing, in a way that neither of us could have imagined.
We met through Diana and immediately hit it off. By the second date we knew this was something special, so we asked Diana to put us on hold and have never looked back."
"We were visited by Diana who explained in detail every aspect of the Just Introductions Group. We were shown photographs of prospective partners that she thought might be suitable and were able to make a choice or request additional details, all information is treated confidentially and no telephone numbers are given without the consent of the person involved, at each stage every help is given to find a lovely new partner.
There are all kinds of events where everyone is invited and all are encouraged to take part, they are really enjoyable. For anyone who is looking to find companionship or a new relationship you will be helped in a very compassionate way, care, consideration and a lot of effort from the Just Introducitons Group team will help you succeed, it did for us, just speak to Diana she will help you beyond what you imagine."
"Why didn't I join earlier - why, oh why did I hesitate - how many times have I now asked myself this! All those wasted years and missed opportunities."
"This group was the best thing I have done after being made a widower. The lady I am seeing had only been a member for two days and myself about two weeks. At all the group get-to-gethers everybody is very friendly and Diana makes you feel at home and encourages you to talk to the others. As we all have different outlooks on life and a variety of ages it all works very well. I have been very lucky to meet this lady quite quickly.
Just Introductions Group is run like a well oiled machine and those concerned have my thanks. When you join you are made to feel welcome straight away - do not feel downhearted if you get a knock back - just keep pushing on and I am sure the coin will turn.
To be part of a group where people can meet up at least 4 times a month and have a monthly magazine with events and new profiles posted to you is brilliant."
I lost my husband in Feb 2015. I was very lucky as I had a wonderful network of family and friends but I soon found out that weekends were not for being alone. My daughter had heard about JIG and I decided it was a better option than going on-line dating! My interview went well and I was given several dating options. At first it seemed strange to contact somebody I didn't know but I met some very nice gentlemen and enjoyed their company.
I have been to as many of the meetings that I could and have met some lovely people. At the beginning of October I had a request from a gentleman from Somerset. I phoned him and we arranged to meet on 15 October.
We hit it off straight away and we haven't looked back. We commute between Dorset and Somerset which suits us. In May we are going on a cruise to Norway which we are both looking forward to. We enjoy one another's company and we miss each other when we are apart - we talk daily on the phone. Life is good and we feel happy and complete again. Give it a go you might find you like it.
"I have met the man that I would like to marry - I hope he feels the same about me!"
"I joined The Just Introductions Group in February 2015 since then I have made many good friends. In 2016 I met Audrey who has become 'My Special Someone'. We enjoy time, days out ,and holidays together. By joining J.I.G. My life has changed for the better." Peter.
"I became a widow in November 2015 and found my life very disinteresting on my own. I read an advert about the 'Just Introductions Group'. By making a phone call, I thought this could be of interest to me, possibly meeting other people on their own and meeting someone to talk to, as by myself it was only 'Good Morning' etc to people at the Bus stop or going to the Quay to watch the world go by. I had only been a member for a couple of weeks when I met Peter .
We met for a drink and realised we had a lot in common. We have been together ever since enjoying days out and a cruise together. We often say to each other 'Thank you Diana'. If we hadn't joined J.I.G we would not have met each other." Audrey
"Having been widowed and not a person to be on my own, I made a new year's resolution to be more positive and came across an advert for the Group.
I applied, met some lovely people who also had gone through loss and enjoyed meetings. It was fate that I met Doug that night, as coming from Bournemouth, it wasn't his usual meeting. I knew that we had a connection; we're both Taurus and have eleven days between our birthdays. I was booked to go to Canada with my son so I was surprised he kept in touch and phoned me there.
I knew he was special then and when I came back it all took off and we've had three holidays together, bought a place together and got engaged at Christmas and I never thought this could happen to me? It could happen to you – Go for it. Life's too short and you have to kiss a lot of frogs before you find your prince." Muriel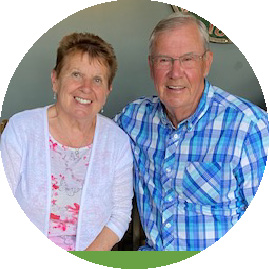 "We were both lonely people, and we were each looking for a soul mate... we have now found each other thanks to Just Introductions Group"